I seem to have a penchant for mauve-toned palettes: When Kanebo Kate reworked something 'Beyonce'-
liciously
named palette and added some Diamonds
(hi Rihanna)
I caved again...
The palette is in Kate's neutral and more grown-up theme and has some excellent glow-factor:
The palette exist of some flat pans (1 & 2) and some heaved pans (2, 3, 4) that remind me of baked eyeshadows. I actually think that they are baked eyeshadows, at least peachy shade no 3 gives that flecksy "baked eyeshadow" quality.
I thought the colour-scheme was most similar to my Chanel Seduction palette and Burberry Plum Pink 06.
My intuition has been right, however, the glow/lustrous/flecks/glimmer factor is a different story.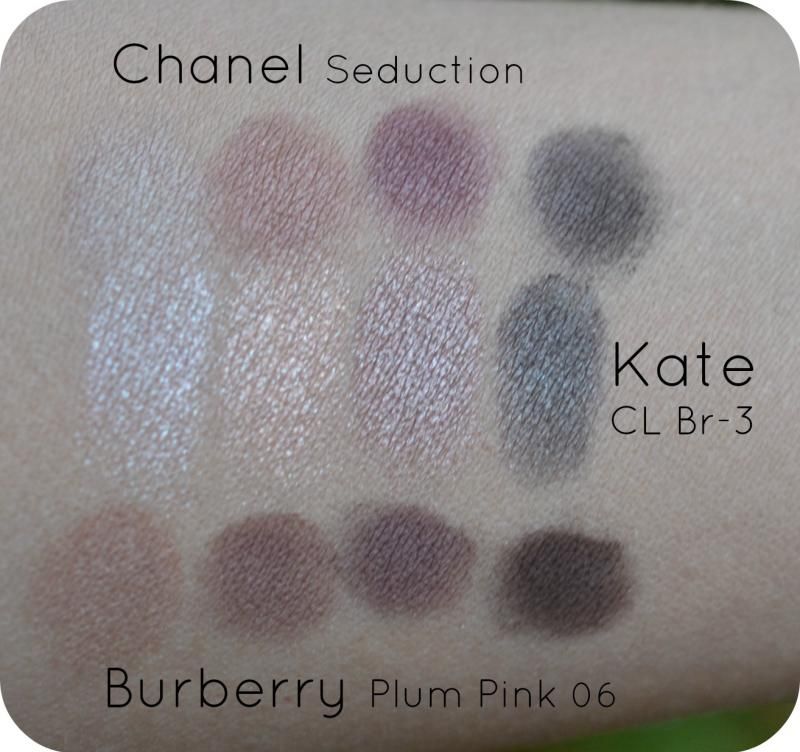 cool winter light ouside, no sun
The difference in glowiness if most visible under flash-light:
This is what makes Japanese eyeshadows so desirable in my opinion: they bring an amount of glow to the eyeshadow that brings eyes and forward.
Visuals:
Kate CL Diamond shade 1, the whitest. It has a fleck-sy texture which shimmers silvery cool. It absolutely doesn't compare with either Burberry nor Chanel. Chanel lightest colour is sandy brown and opaque with a hint of a glow. Burberry is a peachy sand with some opacity and a low amount of shimmer.
Kate CL Diamond shade 3 is a fleck-sy peach with a cooler undertone. I think this one layers well in the middle of the moving eyelid for an extra hint of light. Again, Chanel & Burberry do not compare at all. Both Chanel & Burberry are opaque. Chanel's 'peach' lingers towards terracotta sand and Burberry's directs towards a brownish mauve.
Kate CL Diamond shade 4 is a gorgeous shimmery mauve with a silvery undertone. I think it is opaque but nowhere near the matte-ness of Chanel & Burberry. I like how shade 3 lingers between Chanel & Burberry's 2 & 3 colours. Burberry's 3 shade hints towards a burgundy mauve and has a gorgeous glow, but not as shimmery as Kate. Chanel 3 is a couple of tones deeper and has a hint of pinkish glow over it.
Kate CL Diamond Shade 5 is the strongest colour qualitywise with a high opacity and still a good amount of interesting, multidimensional glow. It looks like a cool brown in the pan but on the skin it is almost a greyish black. Perhaps the multiflecks have something to do with it. Chanel's 4 shade comes close to it but only a more matte & a one-dimensional glow. Burberry is definitely more brown.
Texture/quality:
Kate Colouricious Diamond applies almost creamy but as you can see from the swatches
(with crappy brushes -> my good brushes were getting a wash)
they do need a bit of work and an extra layer. There is a difference in opacity which makes some colours more prone to fade than others (colour 1 & 2). The darkest colour is a dream in both texture, blending and the multiflecked quality that is still office appropriate.

Overal:
The theme of a mauve-based palette is similar to the likes of Chanel & Burberry but the colour payoff and the glow is quite different. I really like this palette because the sublime shimmer brings my eyes more alive and it blends a bit easier. I mix Kate up with either Burberry or Chanel for a mauve-ish eye.


Conclusion:
Fame isn't always better and the shyer sisters of the cosmetic branches have some good values out there
1
Availability:
1
Ofcourse, when living in Japan Kate might be just as big as Chanel or Burberry but hey...for the Western posse