I'm a prime suspect!
...
Or I suspect I prime?
Ok, enough dodgy wordplay for someone in the prime of her life...

Speaking about life and ageing:
Rouge Bunny Rouge
has issued their latest primer aimed for
maturing
skin. I can discuss all the beautiful explaination and butterfly words that RBR attacted to this products: "If only men came with these wonderful & beautiful word
isms
too". But I will leave that up to the skilled word-poets on the RBR
website
They call it the Original Skin Primer and also the bibical reference to the beginning: Genesis. Our cult-fans already know that it is not their first primer...Their mattifying Metamorphosis & their moisturizing primer Prelude in the Clouds.

This would be my first introduction to both the cult (Metamorphosis) & the new (Genesis).

The keywords of the information is that they amped up the *special polymers that act as fillers* in Genesis. Also, *Evermat* as THE wonderpotion that is claimed to have "medicinal properties, reduces pores and shine, refines skin texture and reduces sebum secretion"
RBR provided a generous sample that was filled to the brim.:
As you can see: it is a bit past-like, au contraire the thinner & lotiony substance of Metamorphosis:
: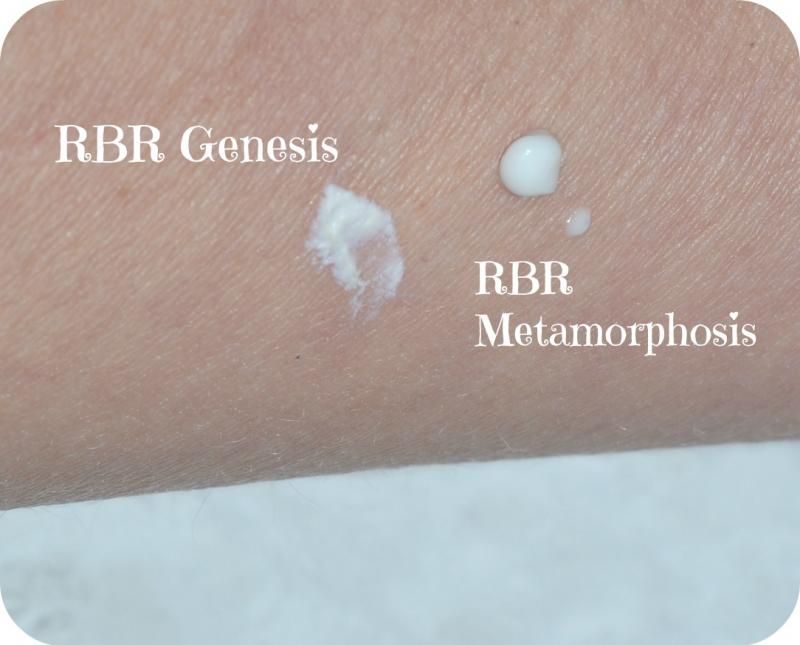 And blended:
Genesis gives a white cast over my (faux-tan) skin. Metamorphosis is almost skin-like
I have been testing it for a couple of days:
day 1 I had Genesis on my left part & Metamorphosis on the right part of my face
day 2 I had it the other way around
day 3 I had a whole day of Genesis alone
same day 4
day 5 I went to Metamorphosis again
day 6 Metamorphosis- whole face & wrinkles- Genesis
Day 7

(well, most of you know the story)

: makeup-free day
Verdict:
Genesis feels slightly silicony
Metamorphosis feels wonderfully absent
both primers hold up the makeup for the whole day equally!
Genesis diffuses wrinkles & scars a bit better than Metamorphosis
However, Metamorphosis feels better on the skin
Metamorphosis is better in absorbing oils
Genesis leaves out a slight white cast on NW25 skin whereas Metamorphosis is almost sheer
I cannot say anything about the anti-wrinkle & other properties due to short testing
it does not cause any outbreaks on me
*
In general, my skin is still young enough to reach for the thinner consistency of Metamorphosis. Moreover, I prefer Metamorphosis for the thinner and almost absent feel without compromising on its longevity. I think sampling would be the best option if you can. For the moment I use my sample of Genesis on the parts that need more 'filling' and the rest of my face will be 'Metamorphosis'.
*
Availability:
Rougebunnyrouge.com still provides samples of Genesis as a freebie and the full-size is available over
here
.
PeriliouslyPale
still has a code going one (a onetimer: RBR-PERILOUSLYPALE) that will last until 31-12-13.