My evolution into more organic method of living:
healthy -healthier - ehm...pitstop
-> ironically it stops at the pits:
my little lime had forgotten his sunscreen, which explains the tan on his back
There is such a thing that is called
orthorexia
which is taking the healthy into excess: thank [
..fill in your deity...]
I have never took it so far as I would pass gladly on anything that flushes me from a
side-that-doesn't-like-to-be-flushed
. But I've been a lot healthier and gotten into the buzz of adding new superfood powders to my smoothie every time.
Something as bland but necessary as deodorant has been
claimed
to be one of the key 'poisoners'
(take 'poison' lightly)
of human bodies due to aluminium & other ingredients (
here
,
here
& one
here
). And to every study there are the ones that prove that the opposite...etc etc. They are still being sold, so I guess it's not a thing like transfat
(yet??)
.
To be sure, I wanted to "go clean" and go for a natural deodorant. Schmidt's had gotten some raves online: it is also available in Holland so I could pick it up.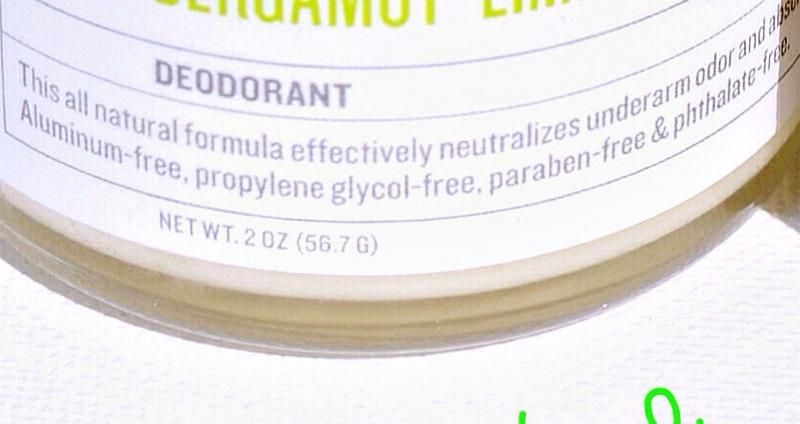 such free-dom, this deodorant
Free of this, Free of that: I took another step into organic-dom!
But the difficulties start with application.
So there's actually a spatula for scooping out the deodorant...
Which brings me to the texture = rockhard!
It rubs in as a sorta coconut oil: it melts after a bit of fingerrubbing and pit-pressing.
I can overlook a bit of extra work but as performance: not too impressed.
I'm not that stinky when I wear no deodorant if I have normal activities (or, I think I'm not). So I'd compare the no-deo first: I loved how it smelled on 1st application, a zesty citrusblend. After 5 hours I put my nose under my arms and "what the fruga-organic-Gwynneth-Uncoupling-esque?": a slight sweaty scent.
Ohoh, it seems like it actually activated my pits after a while. Some light chemical deodorants can do that too: blocking or masking for a while and after some time: sniff-pongy!
I brought it to a high-impact workout
(standing at the other side of the room, just in case)
and I had normal stinky level like at times I would forgot to deo or anti-transpirant at all.
Such a shame, look at some of the beautiful ingredients:
Ingredients (Bergamot + Lime): Butyrospermum parkii (shea butter), Sodium bicarbonate (baking soda), Maranta arundinacea (arrowroot) powder, Theobroma cacao (cocoa) seed butter, Citrus bergamia (bergamot) essential oil, Citrus aurantifolia (lime) essential oil, Tocopherol (vitamin E), Humulus lupulus (hop) extract
I can conclude that it doesn't really work for me. There are some reviews out there that love it (
here
,
here
&
here
). I personally won't go to all lenghts for being healthy so I'll keep the pits slightly chemical until I find my organic match.
So how far would you go for being healthy?